CAROLYN WONDERLAND AND SHELLEY KING DUO
TEXANS AT THE TEXAN
FRIDAY, SEPTEMBER 13, 2019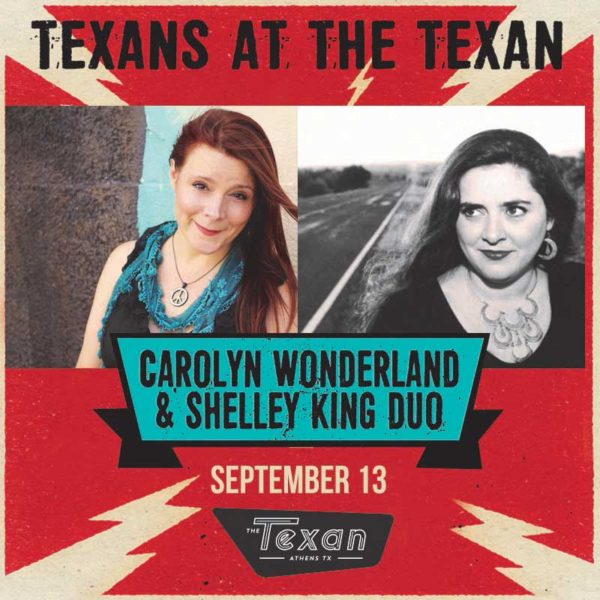 CAROLYN WONDERLAND AND SHELLEY KING DUO
$16 – GENERAL ADMISSION
$32 – VIP TICKETS
Doors open 7pm
The Texan is proud to announce the first installment of Texans at The Texan concert series with Carolyn Wonderland and Shelley King Duo on September 13.
Carolyn Wonderland is a musical force equipped with the soulful vocals of Janis and the guitar slinging skills of Stevie Ray, Carolyn Wonderland reaches into the depths of the Texas blues tradition with the wit of a poet. She hits the stage with unmatched presence, a true legend in her time.
Along with the guitar and the multitude of other instruments she learned to play – trumpet, accordion, piano, mandolin, lap steel – Wonderland's ability to whistle remains most unusual. Whistling is a uniquely vocal art seldom invoked in modern music, yet it's among the most spectacular talents the human voice possesses.
Shelley King is a musical ambassador of the Austin, Texas sound. For the past twenty years King has built a solid national career as a singer and songwriter who is both a successful solo artist and leader of a formidable band of Austin's finest musicians. Her blend of original blues, rock, folk, country, soul and gospel led her to be the first woman appointed by the Texas Legislature to represent the state as it's Official Texas State Artist – Musician; an honor similar to poet laureate. On stage she leads her band through tangents of electric Southern blues and acoustic folk, revved-up Cajun country and rock and roll with a charismatic ease that evidences the resilience of a lifelong performer. She has won Austin Music Awards for Song of the Year and
Best Roots Rock Band and released seven albums of original music to rave reviews and radio chart success.
This event will be held inside The Texan. Tickets are now available online at thetexanathens.com. We will be offering VIP tickets at $32.00 located in the Mezzanine area and $16.00 for general admission which is first come first seat on the main floor. Doors will open at 7pm and show starts at 8pm with a surprise opener at 7:30pm. Although the event is BYOB, glass bottles are prohibited.
The Texan is located downtown at 209 E. Tyler St. For questions, please contact Tourism and Cultural Resources Department at 903.677.5943 or e-mail texaninfo@athenstx.gov. For additional and future event information, visit
www.thetexanathens.com